Las Campanas Equestrian Center
Las Campanas Equestrian Center Santa Fe, New Mexico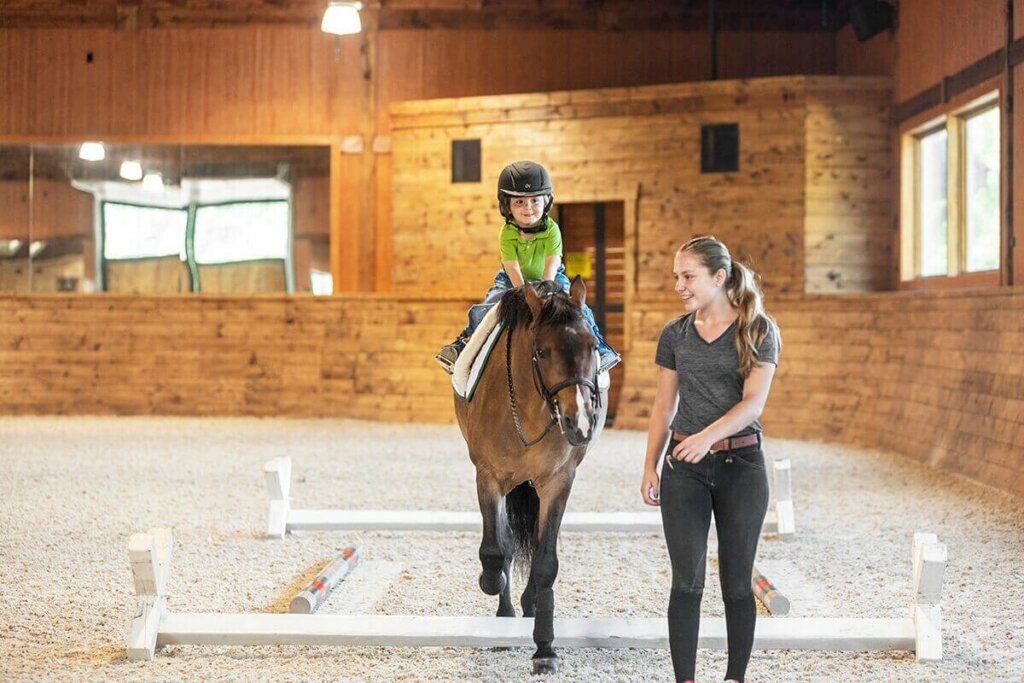 Hours of Operation – Center Front Desk
Monday: Closed
Tuesday – Sunday: 8:30 am – 5 pm
Hours of Operation – Tack Rooms & Riding
Monday: Closed
Tuesday – Friday: 7:30 am – 7:30 pm
Saturday & Sunday: 7:30 am – 5:30 pm
The Equestrian Center at The Club at Las Campanas sets a high standard for the care and comfort of horses, as well as the opportunity for members to experience the pure joy of riding. A number of double stalls have been created and we are starting to see an increase in the number of horses being boarded at the barn. A variety of horse breeds and riding disciplines are expertly accommodated and riders of all ages and levels of experience are welcome.
In equestrian sports, the most important piece of equipment is a living, breathing creature. The high level of communication between horse and rider develops into an emotional relationship.
Las Campanas Equestrian Facilities
The exceptionally well planned facility encompasses a world class barn, large sandy turnouts, a 32,000 square foot indoor riding hall, large outdoor jumping rings, an all purpose arena, and access to 68,000 acres of open land and trails. Instructors for western, dressage, and hunter/jumper disciplines are available, as are fully customized on and off-site trail rides, guided by experienced and well-loved wranglers.
Las Campanas Equestrian Trainers & Instructors
Whether it be the three-year-old green horse or the seasoned campaigner, the philosophy of The Clubs trainers is to create a customized program to suit and optimize each horses's individual athletic potential, temperament, and personality.
Trainers:
Kent Kramer – has been a professional horseman since graduating from Cal Poly, San Luis Obispo with a B.S. in Animal Science. Having won numerous Championship Awards in the reining, reined cow horse, and western pleasure divisions, Kent has also, as a "Big R" judge, judged most of the major horse shows on the West Coast, as well as many Medal Finals and Futurities.
Allen Swafford – Allen, a USDF bronze, silver and gold medalist, grew up in Texas riding western, hunters and dressage, and competing in AQHA shows as a youth and amateur, as well as a trainer guiding many amateurs to their World Championship goals. Allen now focuses exclusively on dressage where he competes, teaches, and trains both horse and rider in every phase, from Training Level to Grand Prix.
Marty Miller – comes from an extensive and diverse background in horsemanship. From riding and training gaited horses at his family's ranch in Central America, to certification in outdoorsmanship and mountaineering by the National Outdoors Leadership School, to owning his own stable and outfitting business in New Mexico, Marty is The Club's quintessential trail guide.
Las Campanas Equestrian Activities
At The Club at Las Campanas they are able to accommodate the teaching of riders and the training of horses in all four disciplines.
Lessons are designed for all levels of riders, from those getting on a horse for the first time to accomplished equestrians competing at nationally recognized shows. The Club has available numerous instructors who excel at assisting members in achieving all their goals, both on their own horses, as well as on one of the Club's horses.
Whether meandering down an arroyo or cresting a butte with mountain vistas in the distance, members may customize their rides, on and off-site, with access to 68,000 acres of open space.
Las Campanas Equestrian Board & Care
The welfare of horses is paramount at The Club at Las Campanas's Equestrian Center and meticulous care is taken in all board and care efforts. Horses are turned out in large, sandy paddocks, fed three times daily, blanketed and unblanketed as weather necessitates, and provided with on-site night watch and emergency assistance. Every need of a horse and every wish of a member are attended to with the care and attention to detail expected of a world class facility.
Location of Las Campanas Equestrian Santa Fe, New Mexico
The Club at Las Campanas
132 Clubhouse Drive
Santa Fe, New Mexico 87506
Phone: 800-241-9400
From Santa Fe:
Drive north on Highway 84/285 (St. Francis Boulevard) and take the 599 South/Santa Fe Relief Route exit. Go approximately four miles and exit on Camino La Tierra. At Camino La Tierra, turn right and continue to the four-way stop sign. Continue on Camino La Tierra and follow the signs to Las Campanas Drive and the clubhouse.
From Albuquerque:
Drive north on Interstate 25 to Exit 276-B, Highway 599 North/Santa Fe Relief Route. Follow Highway 599 to the Camino La Tierra Exit. Turn left onto Camino La Tierra and continue to the four-way stop sign. Continue on Camino La Tierra and follow the signs to Las Campanas Drive and the clubhouse.