About Las Campanas Santa Fe, New Mexico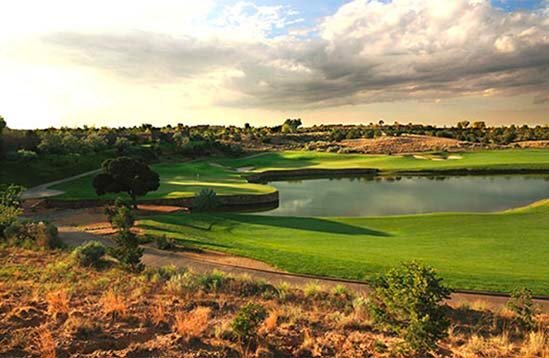 The Club at Las Campanas offers an extraordinary setting to enjoy an ideal life in Santa Fe. With two championship Jack Nicklaus Signature Golf Courses, a Fitness and Tennis center with seven synthetic clay courts and a well-equipped fitness center, and one of the finest Equestrian facilities in the Southwest, it is the only exclusive country club of its kind in New Mexico. The Hacienda Clubhouse offers casual and fine dining and is an exceptional venue for The Club's multifaceted cultural, educational, artistic and musical program offerings. Private club membership is by invitation only.
Life at Las Campanas provides a wide assortment of well conceived and executed special events and programs that enhance the club experience. These special activities are a way for members to continue their lifelong learning, leverage the resources that Santa Fe has to offer, create lasting memories with their families and friends and extend their social circles.
The Club at Las Campanas enriches the lives of its members and their families by providing a unique club environment that encourages the formation of enduring friendships within a private, member owned setting. Located just nine miles from downtown Santa Fe, it has garnered a reputation for being a premier club featuring world-class facilities.
Originally a developer owned club (the doors opened in 1991), it was turned over to the members in 2010 as a financially sound entity. The debt-free turnover of The Club from the developer included the two Jack Nicklaus Signature Golf Courses, the Hacienda Clubhouse, the Fitness & Tennis Center, the Equestrian Center, and the maintenance facilities.
The Jack Nicklaus Signature Sunrise and Sunset golf courses have consistently earned accolades and have been included in America's Best New Private Course (Golf Digest), Top 5 Courses in New Mexico-Sunset #2, Sunrise #4 (Golf Digest), and Top 100 Modern Courses (Golfweek).
The members of The Club at Las Campanas come from many walks of life. They lead inspired lives, pursuing dreams as golfers, horse lovers, active citizens, philanthropists, artists, and collectors.
Excellence, integrity, respect, and environmental and social responsibility are cornerstones of The Club's vision.